---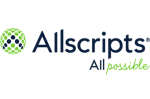 Overview
When organizations need scanners to implement a paperless practice, new tablet PCs for true anytime, anywhere access to patients' information, or new servers for a full data center refresh, Allscripts conveniently and cost effectively provides the hardware, maintenance and technology services compatible with the Allscripts solutions.
Partnering with leading hardware and software providers such as Dell Technologies (including EMC storage), HPe, Lenovo, Cisco, Microsoft, Oracle, Citrix, Zebra, Fujitsu, Nuance, and more to provide clients with end-to-end industry leading solutions, Allscripts Hardware is the right solution. With it, there's no more need to engage with multiple vendors.
Click the Visit Website button to your left to access the store. To request a new log-in, simply email hardware.services@allscripts.com.
How Allscripts Hardware can help
Allscripts Hardware works with several different departments to ensure organizational software has the appropriate types and configurations of hardware to operate at maximum capacity with the highest level of efficiency.
Allscripts Hardware helps organizations:
Drive pre-sale activity by evaluating and helping users select the most appropriate hardware for their organization's needs and budget
Leverage the Allscripts Technical Operations team to ensure they have the right hardware for the organization's technology needs
Create a turnkey solution for their software applications enabling a smoother transition to an EHR
Extend the maintenance on existing equipment, past its original warranty period (even if originally purchased from another vendor)
In addition to serving unique hardware needs, Allscripts Hardware works directly with several leading technology partners to offer network services such as network setup, configurations, disaster recovery and storage solutions, SAN, blade server setup and configuration, and much more.
Key features:
One-stop hardware and software shopping—With a one-stop, organizations can ensure they are getting the best-of-breed services with strategic partner collaboration.
Pre-build systems at our integration partners—Pre-build system integration, enables smoother implementation and more flexibility for future software/hardware add-ons.
Personal and professional service for the life cycle of an organization's system—Our highly technical staff will assist stakeholders from the design of the solution all the way through to the retirement of the hardware phases, ensuring the equipment is running at optimal performance, and providing assistance as users continue to mature in their data center.
Automatic notification of warranty renewals—As the warranty on hardware expires, we will proactively reach out to ensure the proper steps are being taken. Organizations will have the option to either replace the equipment or extend the maintenance, eliminating the risk of not being covered under support agreements.
Documentation: