Allscripts Developer Program Empower (ADP Empower)
---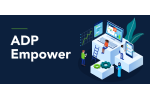 ADP Empower is an Allscripts initiative that aims at amplifying diverse voices and offering resources to underrepresented entrepreneurs, helping accelerate innovation. The goal of ADP Empower is to promote diversity within the healthcare technology industry by creating a community of innovators that represents the perspectives, cultures and needs of our clients and their patients. In a world where communities of color face more barriers to care, Allscripts is committed to supporting this generation of diverse healthcare technology leaders, boosting patient outcomes and reducing disparities. Through partnering with our developers, ADP Empower has supported new technology, enabling us to grow our continuum of care.

Meet the 2021-22 cohort and learn about their solutions addressing healthcare inequities, increasing patient engagement, and creating a culture of inclusion through their innovative solutions.
Bold Health provides end-to-end virtual therapeutic care empowering people to transform their gut health through an integrated care team, and a suite of effective digital solutions.
Caren RPM is a voice-interactive, HIPAA-compliant mobile platform that makes it easier for caregivers and self-managing patients to record and share health information with providers and family.
DrugViu is working to bring diversity & inclusion to autoimmune research and data while empowering patients to take control of their medical records and enable patients to find new and better treatments.
Omaiven uses AI solutions to help patients get personalized attention and can cover up to 80% of communication & navigation tasks.
Patient Orator addresses the bias and health inequities by bridging the communication gap between patients and their health teams.
RubiconMD is an eConsult solution focusing on democratizing access to specialty care, allowing the expert insights to reach underserved communities across the country through technology.
Welfie is building a digital home for health through patient-facing health records that bring together data from mobiles, devices, school records, and electronic health records into a single, comprehensive health profile.
Wolomi is the modern-day community health platform that supports patients, practices, providers, ACOs and payers to get better outcomes for women of color during the perinatal health period.