---

What is Relaymed?
Relaymed is an automated way to send point-of-care (POC) test results into Allscripts Professional and TouchWorks EHRs. With real-time, accurate results clinical decisions can be made faster.
Start your test. Walk away. Relaymed instantly transmits test results from your in-house lab devices to the patient chart.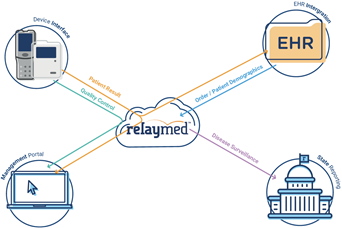 There's no manual entry needed, so there's no opportunity for human error to sneak in: what you see in the chart is exactly what the device reported.
Utilizing Allscripts APIs, the interface with the EHR is seamless. Results are saved as discrete data into the EHR, exactly as if they had been typed in by a member of staff -- giving providers results where they want them, when they want them.
The Relaymed 'engine' is cloud based. Patient test results and quality controls (QCs) are transmitted and stored, creating an accurate and reliable electronic library for CLIA compliance. As a virtual solution, data can be viewed and managed from any web browser.
How Relaymed works with Allscripts Professional
How Relaymed works with Allscripts TouchWorks
More information about Relaymed and Allscripts EHRs
Why we're different
With connections to over 65 device types, Relaymed is a different type of connectivity.
Simple: Just install and go. No training, special servers or project plans required.
Elastic: Connect any device that suits your needs. Unlimited connections included in your subscription so you can grow at any time.
Cost effective: Charged as a subscription you pay per provider per month and can cancel at any time.
State reporting for infectious diseases
The Relaymed State Reporting Module utilizes states' Electronic Laboratory Reporting (ELR) system to automate reporting of infectious disease results, including COVID-19, to your state department of health. With interfaces to devices for patient results, EHRs for patient demographics, and state ELRs for submission, Relaymed is able to create a full workflow for state reporting.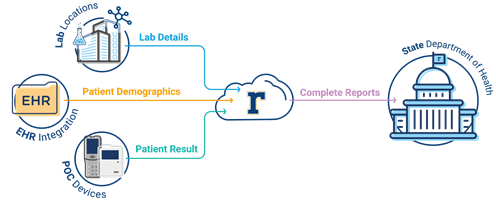 By fully automating this process, Relaymed eliminates all opportunities for manual data entry errors from end to end.
Get started with Relaymed
If you're not connecting your lab devices with Relaymed, you're wasting time and giving the opportunity for human error to sneak in. Join the thousands of providers across the country who already have.
Just hit Request Information here on the Application Store today, submit the form with a few details and we'll reach out to you quickly to schedule an inside look at how Relaymed can deliver point-of-care connectivity.
Documentation:
Allscripts Professional and Relaymed.pdf
Allscripts TouchWorks and Relaymed.pdf
Allscripts Store Admin Apr 05, 2019
"Test results now go straight to the EHR, meaning practice staff can focus on more important tasks. Productivity and satisfaction are through the roof." — Phillip F. Bressoud MD, FACP, University of Louisville Physicians